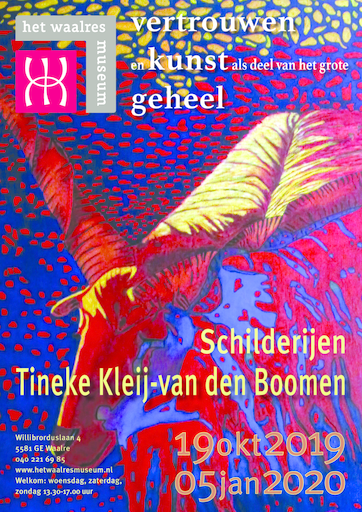 "To paint has formed her way of living and is a way of communicating for her. Thus she can say what cannot be said by words. In her paintings you can find the person she is. She calls them her "self-portraits" - Tineke Kleij-van den Boomen"
Tineke Kleij-van den Boomen. Is living and working as an artist in Sint Oedenrode, a village in the south of the Netherlands. She is autodidact.
The German art historian and writer Helmut Orpel characterizes Tineke's work as follows:
"Much of her work displays the dissolution of shape. The original shape can barely be distinguished, yet it can be recognized. The distinctions between shape and space, between fantasy and reality are still there, but are put into perspective by their dissolving shape."
Tineke's work has been displayed at various exhibitions both here and abroad and is included in a number of art guides both nationally as internationally.
Having endured cancer, Tineke allowed herself to become a child again, so she could put her true feelings into her life and her work. She does not want to conform to any art rules in any way. She allows herself the freedom to do what she wants to do, without being restricted by any rules whatsoever.
Tineke has overcome cancer. Her illness has enabled her to grow.
Her freedom
The paintings that you encounter on Tineke's website are Tineke's old creations, study material and her latest creations. Her latest creations are based on the greatest good there is. On freedom. Freedom of thought and freedom of imagination.
She hopes you will enjoy her paintings.
If you would like to stay informed about Tineke's work and exhibitions subscribe to her newsletter on http://www.tinekekleij.nl/nieuwsbrief.html#.Vgje5svouM8 .
Do you have interest in (one of) Tineke's creations. Comments are highly appreciated. So enter your name etc. in on http://www.tinekekleij.nl/reageer/site/0.html#.VgjdFsvouM8.
Are you interested in buying or renting (one of) Tineke's creations go to http://www.tinekekleij.nl/index/146297492_ONLINE+WINKEL.html#.VgjgzsvouM8 and view on this page which your options are.
Tineke likes to see or hear something from you in return.
Tineke Kleij-van den Boomen, h/o JustBooArt, Kalmoes 14, 5491 KJ Sint Oedenrode
T: +31 (0)413 – 474 317, M: +31 (0)6 - 493 734 86, e-mail: contact, website: www.tinekekleij.nl en www.tinekekleij.com / Ingeschreven in de Kamer van Koophandel te Eindhoven onder nummer 17.24.67.99.